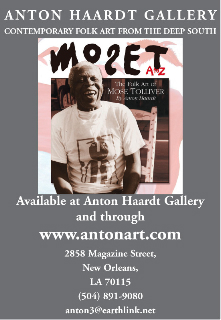 Montgomery's Anton Haardt with her book Mose T From A to Z: The Folk Art of Mose Tolliver has been awarded the prestigious Nautilus Silver Award and New York Book Festival Art/ Photography Award
The Book is an intimate portrait of unique African-American who saw fame in his own lifetime after a disaster caused him to pick up a paintbrush. The photographs , the art work, and poignant quotes by Mose offer powerful images, touching the South¹s natural soul. Anton Haardt lets us see beyond the artist into the personality of a complex man who took defeat and turned it into victory. It is a great book for fans of Mose, aficionado's of folk art, curious readers everywhere and libraries daring to blend art school painters with untrained artistic genius.
Interactive Mose T book available in 2015! *Please see the link:
v=Rhxzu50aEPM&list=UUmEcNggzIpx_3yP1PMmiIzQ&index=2
Mose T A to Z: the Folk Art of Mose Tolliver
In the winter of 1982, the American art world was jolted by a controversial exhibition held at the Corcoran Gallery of Art in Washington, D.C. The morning after the opening reception, art editors questioned in newspapers across the country, "Is this art?"
This groundbreaking exhibition, Black Folk Art in America: 1930-1980, brought together for the first time the work of America¹s greatest living folk art masters. The exhibition¹s organizer, Robert Bishop, even went so far as to declare that the work of one artist in particular was of "equal value" to Picasso¹s, suggesting that "you can hang him beside a Picasso and you have the same creativity and deep personal vision."
That artist is the subject of a book by Montgomery native Anton Haardt, titled,Mose T. from A to Z: The Folk Art of Mose Tolliver. Available now, this full-color, 90-page volume is the first book to be devoted entirely to the life and work of the last surviving artist from the Corcoran exhibition. In it Ms. Haardt relates the story of Mose Tolliver¹s turn to painting after a crippling accident left him unable to work. She charts the evolution of his career, from the days when he hung his paintings in a tree in his front yard in Montgomery, Alabama, selling them for a dollar each, through his rise to renown in the folk art world and far beyond. Additional essay contributions from scholars Lee Kogan and Regenia Perry situate Tolliver¹s work within the history of American folk art and discuss the stylistic originality of this visionary American artist.
We know you will want to join us in celebrating Mose Tolliver¹s incredible story. For additional information on Mose Tolliver you may visit the website for the Anton Haardt Gallery in New Orleans at www.antonart.com.
Book Review Quotes:
"In terms of the art history of our country, I would say in comparing Tolliver's work to Picasso - Mose's art is of equal value - you can hang beside a Picasso and you have the same kind of creativity and deep personal vision."
Robert Bishop, Director of the American Folk Art Museum
"Haardt leaves no doubt that Mose Tolliver has made a lasting contribution to the cultural memory of the South"
Jason Berry, Best Selling Author
"Locomotives behind artists are as necessary as the art itself, and thanks to Anton Haardt, many of our regional artists have been able to live and even flourish from their craft."
Nall - Artist, Writer, Director of Nall Foundation
"Bill and Hillary Clinton gave Ted and I a Mose Tolliver painting as a wedding present. I smile every time I pass it no matter what else my day has brought me. That's art."
Mary Steenburgen,
Academy Award Winning Actress
"I must thank Anton Haardt for sharing Mose's story with us. It¹s an excellent story and excellent journal of an amazing artist who will see fame in his own lifetime after a disaster that caused him to pick up a paintbrush ­ and share his inner thoughts with us."
Tyrone V. Banks, Author of "Under the Melting Pot"
"Mose T, A to Z is the first book dedicated to Tolliver's work... Haardt's true heart comes through in this book... a worthy investment for fans of Mose, aficionado's of folk art and curious readers everywhere".
Clarence V. Reynolds, "Black Issues" January-February 2005
"Haardt gives a brief, yet highly informative, definition on each of Tolliver's whimsical monikers for his paintings. This book should hold a special appeal for those who have come to know and love the old man on Sayre Street, and may capture interest of art enthusiasts worldwide."
Cane Bowden, "Kudzu Review," Montgomery, Alabama August 2004
Book Awards
Mose T A to Z: The Folk Art of Mose Tolliver has received the following Awards:
A Silver seal in the Nautilus Book Awards 2008. This is a national competition to recognize books that can change the world. . This contest recognizes the contribution of independent presses and self-published books in bringing new ideas to the marketplace, similar to the way that independent filmmakers have reshaped the film industry, according to Ellen Reid, the publisher and book marketing expert who originated the contest. The Silver Nautilus award for Mose T A to Z: The Folk Art of Mose Tolliver by Anton Haardt was in the category of Art Genre recognizing not only the Photography but Font and Design.. The Nautilus Award is an ongoing national competition in 24 categories celebrating literary contributions to positive social change, spiritual growth, conscious living, wellness, and responsible leadership.
New York Book Festival Award, First Place Photography 2008
Gold Award and Silver Award Creativity 38 Annual Awards 2008